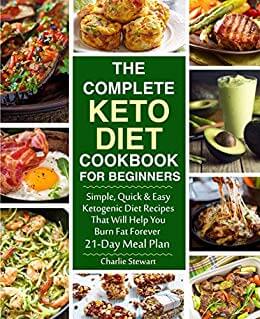 Starting a new diet can be hard as you have to deal with cravings and uncertainty of what you should eat to stay on track. This book ranks as one of the best recipe books regarding the keto diet owing to its simplicity and wealth of knowledge. For that one month, as you gear up for a lifetime of healthy eating and rewards in weight loss, this book will offer you twenty-eight-day meal plans. This schedule helps you stay on track while easing you into the diet with time. And we are not talking about one meal plan, but rather, several options to help you choose what works best for you.
If you have sensitivities to certain foods, you will find suitable alternatives listed in the book as well as grocery lists, tips, and tricks. You will be happy to know that there are more than one hundred whole food-based meals in store for you.
The Ketogenic Diet
We all want value for our money, and this book provides exactly that. It features tons of information as to what it means to lead a ketogenic lifestyle as well as the benefits in store for you, alongside maintaining a healthy weight. Additionally, it guides you on how to plan your meals to get the most out of the diet as well as outlines grocery and food lists. At the end of reading it, you should understand weight loss principles and what the diet does for your body and should be able to whip up healthy meals in under an hour. It also helps that the book gets into the nutritional breakdown to enable you to understand what you are putting in your mouth and why. It is an excellent read for novices in the diet.
Keto Comfort Foods
Dieting is not always about eating bland foods that make you want to veer off track for a day or two. It can also be fun as shown in this book. For those days where you crave comfort foods, this book has got your back with close to two hundred recipes. What will it be? From steak fries to cinnamon rolls to tiramisu cheesecake, the options are endless, and the good thing is that the recipes are all in line with your diet.
The Keto Crock Pot Cookbook
Do you understand the ketogenic diet? Well, this book is all about shedding light on the matter as well as what makes this diet work for you. Other than this, it also guides you on how to use a slow cooker, including tips that come in handy when you want to show off how good you are in the kitchen.
Simply Keto
Motivation comes in handy when following a new diet and this book is here to make the journey easier. It features more than one hundred recipes which are straightforward, even for beginners in the kitchen. Additionally, it has a thirty-day meal plan to help you through your first few months, and it also gives you tips on grocery shopping. You can think of it as your loyal companion as you work towards a healthy weight and fitness in general.
All these books work great for beginners and experts in the diet alike. What's your pick?